Why modern Business Intelligence?
Top-performing organizations use analytics 5x more than bottom performers.— MIT Sloan Management Review
Companies that use analytics have 126% higher profits than competitors who don't. — McKinsey
91% of marketers agree that data-driven marketing is crucial to success
— Forbes
It doesn't matter how much data you collect—what matters is that it gets into the right hands at the right time to make the right business decisions.
Traditionally, spreadsheet reports are pulled, distributed…and then pulled again if more questions result. With a more modern approach to business intelligence, interactive, visual analysis empowers those closest to the data to ask questions and discover new insights.
Are you getting maximum value from your data, and why companies are failing to convert data into dollars?
Leveraging data to drive better decisions is a top priority for most companies. Yet, few companies are doing this well. To better understand the challenges and barriers that companies face, the Digital Analytics Association (DAA) surveyed more than 800 digital analytics professionals. What follows below are some of the highlights :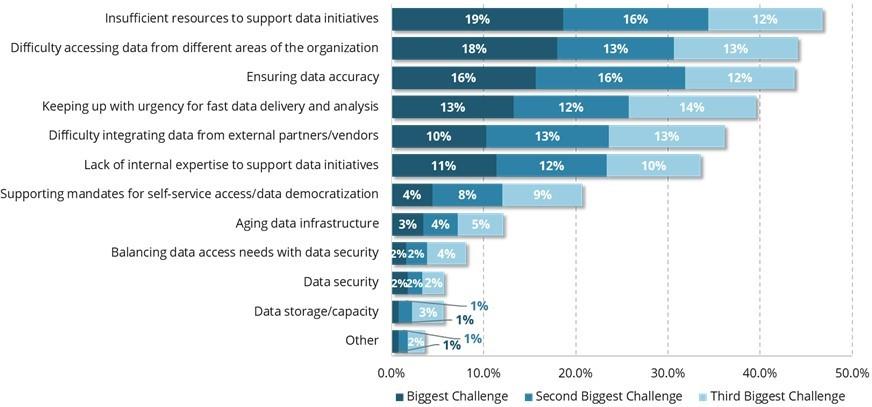 Data storytelling is the new language of corporations.
Finding and communicating data insights is now a team sport.
The ability to capitalize on data analytics can make or break a company. And big data, artificial intelligence, and predictive analytics have every organization scrambling for an advantage—or fearing for disruption.
An impressive 85% of companies that are succeeding with analytics (i.e. those organizations that consider themselves to be analytics pacesetters in their markets and have an enterprise-wide analytics strategy in place) are seeing revenue growth greater than 7%.
The statistic shows that financial and banking industry is leading on their share of the global big data and analytics market in 2016. That year, banking will be responsible for producing 13.1 percent of big data and business analytics revenues. In total, the market is valued at 130.1 billion U.S. dollars in 2016.
It's no surprise that data insights have so far had the greatest positive impact on finance and IT. Both are departments that have long collected and analyzed data as part of their core functions. But the Forbes Insights/Cisco survey also found a growing list of other high-impact areas, including operations, sales, HR and marketing. Other business units remain in catch-up mode, with the greatest room for improvements in engineering, distribution, manufacturing and R&D.
"Analytics is becoming both a method to help us transform to keep up with social, economic and competitive changes, as well as one of the things that's causing us to transform our business," says Jim Korcykoski, senior vice president and chief technology and information security officer at Nationwide, an insurance and financial services company.
The company is using advanced analytics, such as machine learning, in a variety of ways. This includes scouring large volumes of insurance claims for patterns that indicate potential fraud; this ultimately allows human investigators to focus their efforts more effectively.